Orchestral Instruments
String Instrument Teachers at The Music Shoppe of Normal
Christine Bock, Violin/Viola/Fiddle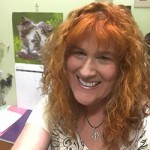 Chris Bock has performed as soloist and principal violist with numerous orchestras in the Midwest. Just to mention a couple orchestras, Ms. Bock was principal violist of the Illinois Symphony Orchestra for almost 20 years, Millikin-Decatur Symphony for 30 years, and The South Bend Symphony, for 13 years – all concurrent positions! Having retired from her principal positions, Chris is now enjoying more time for teaching and fiddling. Chris has a Bachelor of Performance Degree from Illinois State University and a Masters of Performance Degree from Northwestern University and a partially completed a doctorate from the University of Illinois. She has taught at various Universities for the past 30 years and taught at Millikin University for 18 years. Chris currently has a studio at The Music Shoppe studios and maintains a studio of about 60 students. Ms. Bock teaches all ages and all advancement on violin, viola and fiddle and there are recitals offered every fall and spring. Go to her website for more details at: https://christinebock.com/

Over the years, Chris has held principal positions in numerous orchestras such as Illinois Symphony Orchestra, Millikin-Decatur Symphony, Peoria Symphony, Missouri Symphony Society, and South Bend Symphony. Along with her accomplishments as an orchestral musician Chris has had a long career as a chamber player, as a soloist with orchestra, and in recital on both the violin and viola. Chris Bock can be heard on CDs Journeys featuring works of the composer Baksa with the Heim Duo on the MSR Classics label, Celtic Rose by Marita Brake and The Book of Laments by Christopher Pond.
Chris Bock has grown up in the classical world, but played briefly in a rock band called The Polite Coyotes and discovered she enjoys performing rock music and jamming on the fiddle! Now, she runs wild in the Celtic neighborhoods and is a member of The Shanties. In her seventh year as the fiddler in this new Irish rock band, Chris has fallen in love with Irish music and playing a star role on the fiddle. Go to www.theshanties.com for upcoming concert dates.
In addition to music, Chris has a passion for writing, art, fitness, healthy cooking, and has run four Chicago marathons. Chris also promotes the artwork of her late husband Walter Bock, offering original art and high quality digital images: www.waltbock.com (website is currently unavailable). She makes her home in Normal with her two Siamese cats, Joce and Min.
Teaching style:
Chris Bock has decades of experience teaching all ages from as young as four years old to university level and then professionals seeking performance positions in orchestra. Chris Bock is a very energetic and enthusiastic teacher who believes that the process of learning an instrument is challenging but fun! She encourages the student to practice daily to acquire skills and helps the student learn how to practice and unlock their potential. Ms Bock has a unique ability to empathize with the student to target solutions, and to adjust to their pace of learning. Ms Bock believes in positive teaching, and is always encouraging and patient.
Rhoda Roberts, Violin/Viola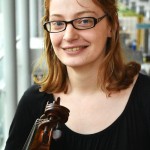 Rhoda attended Illinois State University graduating with a degree in violin performance. While at ISU she worked with the String Project Program as a small group and private lesson instructor for both violin and viola and as an assistant in the orchestra classroom. Recently Rhoda has been spending some time making tutorials and practice along with me videos for her younger students. Rhoda is a member of the American String Teachers Association. She is comfortable working with many age groups and welcomes anyone who will commit to regularly attending lessons and practicing at home.
Christine Cicha, Cello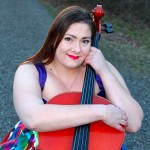 Christine Cicha is a Kansas City native now living in Central Illinois. She has been playing cello for nearly 20 years. In Spring 2017 she graduated from Illinois State University with a Masters degree in cello performance. She received her Bachelor of Music degree in cello performance from the University of Minnesota Twin Cities. While in Minnesota, she was a member of the Mississippi Valley Orchestra and played in pit orchestras for the University of Minnesota and the Bloomington (MN) Civic Theater.
After graduating from UMN and moving back to Kansas City, she became a member of the Kansas City Civic Orchestra, first as a section member and then as principal cellist. She was also a substitute musician for the Kansas City Symphony. Before she left Kansas City, she had a studio of over 20 students in addition to teaching sectionals in the local school districts. Ms. Cicha is currently a substitute musician for the Peoria Symphony Orchestra.
Molly Madden, Harp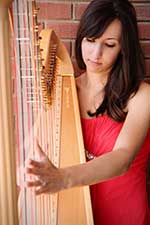 Raised in a musical home, Molly Madden was just two years old when she first laid her fingers on a harp. She received Bachelor's degrees in both Harp Performance and Music Education and a Master's degree in Harp Performance from the University of Illinois at Urbana-Champaign, where she also received extensive training and practice in harp pedagogy. Molly completed her student teaching in Champaign-Urbana for grades K-8, teaching band, music technology, and general music. In addition to private teaching, Molly is an active performer, serving as principal harpist for the Champaign-Urbana Symphony and Heartland Festival Orchestras. She also frequently performs with the Illinois Symphony Orchestra, The Champaign-Urbana Theater Company, The Chorale (Champaign-Urbana), Illinois State University Wind Symphony, and chamber ensembles in Central Illinois. You can learn more by visiting her website: http://mollyharp.com/