Band Instruments
Woodwind Teachers
Ai Yamaguchi, Flute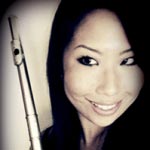 A native of Tokyo, Japan, Ai Yamaguchi is a doctoral candidate in flute performance and literature at the University of Illinois at Champaign-Urbana. She also holds a Master of Music degree in flute performance from University of Southern Mississippi and a bachelor's degree in Music Education from Wright State University. Recently named principal flutist of the Urbana Pops Orchestra, Ms. Yamaguchi has also performed as a second flutist in the Gulf Coast Symphony in 2008-2010 season and the Miami Valley Symphony Orchestra in Ohio.
Ms. Yamaguchi has performed in masterclasses for Fabio Angelo Colajanni, Tadeo Coelho, Ervin Monroe, and Kristen Stoner and recently, she was selected to perform in the master class held at the Eastern Kentucky University for the world renowned flutist, Sir James Galway. Her principal teachers include Dr. Jonathan Keeble, Dr, Danilo Mezzadri, Rachel Taratoot-Ciraldo, Dr. Christopher Chaffee, and Dr. Leslie Goldman Maaser.
Katie Gunn, Oboe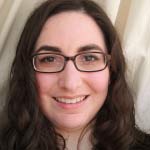 Katie Gunn is an educator and musician in Central Illinois and Indiana. Currently employed as the Oboe Instructor at Indiana State University, Katie teaches both undergraduate oboists as well as middle and secondary musicians. Katie is an active musician and has performed with the Champaign-Urbana Symphony, the Kankakee Valley Symphony Orchestra, the Danville Symphony, the Mississippi Symphony Orchestra, and the Lubbock Symphony Orchestra. As a chamber musician, Katie currently plays with Regali Winds and the Indiana State University Faculty Quintet. In the past, Katie has performed in the Lubbock Symphony Orchestra Wind Quintet which performed extensive community outreach in the Lubbock area and commissioned Ferdinand's Follies, which premiered in 2009. She is the recipient of the Bill A. Nugent Fellowship at the University of Illinois, studying with John Dee, and is in the process of finishing her doctorate. Katie received a Master's of Music from Texas Tech University studying with Amy Anderson, and a Bachelor of Music Education from Baylor University, where she studied with Dr. Doris DeLoach.
Moria Tunison, Clarinet
Moria Tunison is currently pursuing her DMA in Clarinet Performance and Literature at the University of Illinois studying with Professor David Harris. She has a wide range of ensemble experience, having performed in the Urbana Pops Orchestra, the Illinois Wesleyan Civic Orchestra, Champaign-Urbana Civic Wind Band, the FAVA Opera Chamber Orchestra in France, and chamber ensembles including The Graduate Woodwind Quintet, clarinet choirs, and the Illinois Modern Ensemble. In addition to her ensemble experiences, Moria maintains an active solo presence, including a performance with the Eastern Symphony Orchestra as the 2010 concerto competition winner.
As an educator, Moria holds a B.M. in Music Education from Eastern Illinois University. She has taught students ranging from elementary to high school age and enjoys nurturing the musical potential of each student. Past students have been accepted into IMEA District and All State bands and orchestra, performed in various honor bands throughout Illinois, and received Superiors and Best of Days at Contest.
Moria has also received a B.M. in Clarinet Performance from Eastern Illinois University studying with Dr. Magie Smith and a M.M. in Clarinet Performance from Michigan State University studying with Dr. Guy Yehuda.
Jenelle Orcherton, Saxophone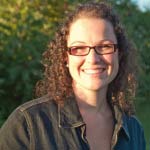 Jenelle Orcherton is a in-demand educator, clinician and performer of classical and jazz serving the Champaign-Urbana and central Illinois area. She has participated in many national and international auditioned performing groups such as the National Collegiate Wind Ensemble performed at Carnegie Hall under the direction of Dr. H. Robert Reynold and the National Youth Band of Canada as principal tenor under the direction of Marvin Eckroth. She toured on Norwegian Cruise Lines as the woodwind specialist on alto and tenor saxophone, flute and clarinet in the showband playing with performers such as Elvie Rose, Jane Powell and Rudy Macaggi and many others.
Jenelle can be heard on her debut album, "Here to There", released in 2010 and is also featured on the five album set Bumper Crop I-V, and the live Ellipse Quartet album.
Jenelle has studied, worked and performed with musicians such as Chip McNeill, Ron Bridgewater, Tito Carillo, Adam Nussbaum, Glen Gills, Mark Dejong, Troy Linsley, Dean McNeill, Steve Haines,Wayne Newton, Greg Gatien, Kelly Jefferson, and Mike Rud.
Jenelle has been teaching privately for over fifteen years to students of all ages and abilities on saxophone, flute and clarinet. She holds a B.Mus/B.Ed(Music Ed) and a M.Mus in Jazz Saxophone and has extensive experience in ensemble coaching, summer music camps, theory lessons, auditions and performance preparation in both classical and jazz.
Brass Teachers
Christopher Moors, Trumpet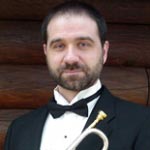 Christopher M. Moors is the Manager of The Music Shoppe in Champaign & founder of The Music Shoppe Lesson Studios in Champaign. He is well known throughout the Central Illinois area as a performer, teacher, composer, and local TV/radio personality. In the central Illinois area he has performed with Danville Symphony (10 years), Champaign-Urbana Symphony, Sinfonia da Camera, Illinois Symphony, Baroque Artists of Champaign-Urbana, Heartland Festival Orchestra, Prairie Ensemble, Candy Foster and the Shades of Blue, Tons O Fun Band, Sycamore Brass & his own jazz ensemble Cosmology.
His brass instructors include Dr. Paul Willwerth, Richard Illman, Dr. Mike Ewald, Ray Sasaki, and Dr. Thomas Wirtel. Moors has over 20 years experience teaching students of all age levels throughout Michigan, Minnesota and Illinois. He has a B.M.E. from Central Michigan University, a M.M. from Michigan State University, and served as graduate assistant at the University of Illinois while working on a D.M.A.
CD's he appears on include: "Passages" in celebration of the 40th Anniversary of the Experimental Music Studios at the University of Illinois, "Sousa, El Capitan" by Sinfonia da Camera on the Zephyr label, and "Blue Shades" the music of Frank Ticheli by Michigan State University Wind Symphony.
Blase Cermak, Trumpet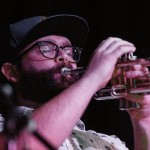 Blase Cermak has been performing in the Chicago area since high school and graduated from the University of Illinois Trumpet Studio after studying with Ronald Romm, Charles Daval, Jake Walburn, and Sid Shuler with a bachelors in Music Education in 2014. After teaching band and marching band locally for four years he is now performing and recording with bands in Champaign-Urbana and Chicago. He's recently played with groups like Sixth Street Brass Band, Gogetum, and Boneyard Brass Band, as well as local concert bands and pit orchestras.
Anna Marshall, French Horn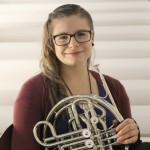 Anna Marshall is currently pursuing her doctorate in horn performance at the University of Illinois at Urbana-Champaign. She is a native of Michigan and attended Western Michigan University for her undergraduate studies. While at Western, Anna primarily studied horn with Dr. Lin (Foulk) Baird and received a Bachelor of Music in Music Performance as well as a Bachelor of Arts in Visual Arts. She then went on to receive her Master of Music degree at the University of Iowa while studying under Prof. Jeff Agrell and Dr. James Naigus.
Anna has participated in numerous collegiate ensembles during her time at all three schools and has performed professionally with the Champaign Urbana Symphony Orchestra, Sinfonia de Camera, Danville Symphony, Kalamazoo Philharmonia, Dubuque Symphony Orchestra, and Englert Theatre. Along with her performance experience, Anna has been teaching individual lessons for over 7 years and also has experience teaching courses related to Horn Methodology, Creativity in Music, Classical Improvisation, and Music Technology.
Stacey Peterik, Trombone & Low Brass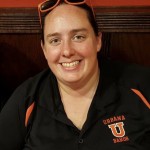 Stacey Peterik is currently the 5th grade band director in Urbana School District #116. She teaches 5th grade band at all six elementary schools, assists with 6th grade band students at Urbana Middle School, teaches the Urbana Middle School and Urbana High School Jazz Bands, and is the director of the Urbana High School Tiger Marching Band. Stacey is a 2008 graduate of the University of Illinois at Urbana-Champaign, where she holds degrees in music education and psychology. During her time at the University of Illinois, Stacey participated in numerous music ensembles on various instruments. In 2016, Stacey received her Master's degree in music education from VanderCook College of Music. Originally from Plainfield, Illinois, Stacey is a trombone player, but has also played baritone and tuba (and many other instruments) in many ensembles, including, but not limited to concert bands, jazz bands, pep bands, brass quintets, and other ensembles.