Guitar
Dustin Norder, Guitar & Mandolin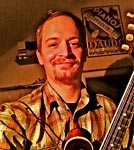 Dustin Norder has been playing mandolin and guitar for the past ten years. He has studied music theory and ear training along with other performance classes. Dustin has played in the Champaign area for the past six years with The Corn Desert Ramblers, Hot Iron String Band and Ol' Number Seven, among others.
His styles range from bluegrass, gypsy jazz and swing to country, folk and blues. "Since I began playing music, I have always shared and learning from other musicians. Teaching is a part of music and that is why I love it". Teaching formally for four years now, Dustin is excited to join the Music Shoppe as a mandolin and guitar teacher.
Dr. Young Kim, Guitar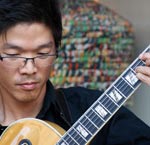 Guitarist Young Kim studied at the Seoul Jazz Academy in Seoul, Korea, and at the Berklee College of Music in Boston, MA, before attending the University of Illinois, Urbana-Champaign. He recently graduated with the degree in Doctor of Musical Arts in Jazz Performance from the UIUC. His doctoral project was a study of guitarist John Abercrombie's jazz improvisational style. Young has studied with bassist Larry Gray, pianist Chip Stephens, and guitarist Tim Miller. He currently performs and teaches guitar in the Champaign-Urbana area.
Young enjoys teaching guitar, music theory, ear training, and improvisation to students of wide range of levels, ages, and styles. His teaching philosophy is to help them learn the language of music, discipline through practice, and discover their own musical identity and creativity.